32t/38t Internal Combustion Tow Tractor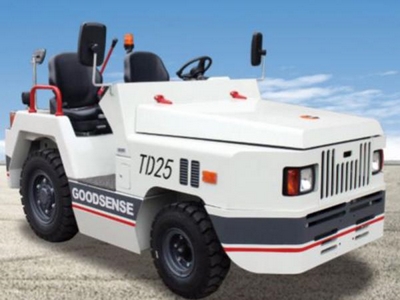 32t/38t Internal Combustion Tow Tractor is characterised by 2WD. This small type of tractor can be used for nealy all towing operations.
Technical Parameters
Model
 
TD25-Y2
TD30-H1
Power Type
 
Diesel
Rated Traction
kg
32000
38000
Service Weight
kg
4100
4300
Overall Length
mm
3200
3190
Overall Width
mm
1440
Height
mm
1450
1998/1450
Wheelbase
mm
1600
Front Overhang
mm
700
Rear Overhang
mm
900
890
Wheel Tread (F/R)
mm
1200/1190
Front Tire
 
6.50-10-1 OPR
Rear Tire
 
7.00-15-12PR
Towing Coupler Height (On/Under)
mm
400/304.8
405/304.8
Ground Clearance
mm
150
Turning Radius
mm
3250
3250
Travel (Loaded/Unloaded)
km/h
12/29
12/30
Front Axle Load
kg
1350
1300
Rear Axle Load
kg
2750
3000
Max Drawbar Pull
kN
25
30
Max. Gradeability
%
35
Braking Distance (Loaded/Unloaded)
m
4.1/6.6
3/6.6
Engine Model
 
YANMAR4TNE98
4H50TIC
Rated Torque
kW/r/min
43/2300
51.3/2600
Rated Speed
N • m/r/min
177.6-196.3/1700
200/2600
Rated Consumption
g/kW • h
3319
240
Model
 
Okamura
Graziano
Type
 
Hydraulic
Number of gears(F/R)
 
2/1
2/2
Operating Type
 
Automatic
 
GOODSENSE is a company designs and manufactures forklifts and other material handling equipment. Our warehouse equipment portfolio comprising counterbalance forklifts, tow tractors, reach trucks, sideloaders etc. are built on the purpose of helping solve your material handling challenges related to warehousing and storage works. We carry a full line of testing equipment to ensure high quality material handling systems while improving facility safety. At GOODSENSE, we offer suitable and compliant material handling solutions to help you implement your warehousing tasks.