3-3.5t 4WD Rough Terrain Forklift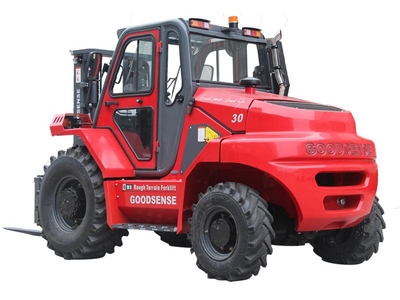 3-3.5t 4WD rough terrain forklift uses off-road vacuum tyres on the front and rear. 54.9 kw Hatz 4H50TIC motor brings high travel speed and stable performance. Drive axles can be accompanied with limited slip differential for better performance.
GOODSENSE 3-3.5t 4WD rough terrain forklift is equipped with custom gearbox and drive axle. 2WD and 4WD can be switched by electronic switch. 2WD is more energy-saving and environmentally-friendly than 4WD while 4WD is more suitable for rough roads and requires no specific maintenance.
3-3.5t 4WD rough terrain forklift has wet disc brakes on its 4 tires which are powerful, reliable and maintenance-free.
Details
Overhead guard is useful for shock isolation. When the forklift needs maintenance or repair, overhead guard can be opened by electronic switch or by hand.

The mast made by high strength box iron offers clear visibility for drivers.

LED light is durable and energy-saving. LED light can be added for specific task requirements.
Technical Parameters
 
Item
FD30RT4
FD35RT4
Unit
Performance
Power Type
Diesel
Diesel
 
Load Capacity
3000
3500
kg
Load Centre
500
500
mm
Dimension
Lift Height
3000
3000
mm
Fork Size
1220×125×45
1220×125×50
mm
Mast Tilt Angle
10°/12°
10°/12°
 
Length to face of fork(Without fork)
3300
3305
mm
Overall Width
1850
1850
mm
Overhead Guard Height
2250
2250
mm
Mast Lowered Height
2230
2260
mm
Mast Extended Height
4245
4245
mm
Front Overhang
700
705
mm
Min. Ground Clearance
340
340
mm
Min. Turning Radius
4380
4380
mm
Min. Aisle width
3040
3040
mm
Wheelbase
1990
1990
mm
Service Weight
5700
5900
kg
Performance
Max. Travel Speed(Empty load/Full load)
25/24
25/24
km/h
Max. Lifting Speed(Empty load/Full load)
500/480
500/480
mm/s
Max. Lowering Speed(Empty load/Full load)
400/380
400/380
mm/s
Max. Gradeability
30%
30%
 
Tyre
Vacuum Tire
Vacuum Tire
-
Front Tyre
405/70-20 14PR
405/70-20 14PR
-
Rear Tyre
10.0/75-15.3
10.0/75-15.3
-
Battery
12V/110AH CCA450A
12V/110AH CCA450A
-
Transmission System
Number of gear
F3R2
F3R2
-
Transmission
Hydraulic Torque Converter
Hydraulic Torque Converter
-
Brake
Wet Disc Brakes
Wet Disc Brakes
-
Stopping Brake
Caliper Mechanical Brake
Caliper Mechanical Brake
-
Differential
Limited slip differential
Limited slip differential
-
Drive Wheel
2WD/4WD
2WD/4WD
-
Other
Fuel Tank Capacity
80
80
L
Hydraulic tank capacity
80
80
L
 
GOODSENSE is a company designs and manufactures forklifts and other material handling equipment. Our warehouse equipment portfolio comprising counterbalance forklifts, tow tractors, reach trucks, sideloaders etc. are built on the purpose of helping solve your material handling challenges related to warehousing and storage works. We carry a full line of testing equipment to ensure high quality material handling systems while improving facility safety. At GOODSENSE, we offer suitable and compliant material handling solutions to help you implement your warehousing tasks.